The temple of Artemis, Artemis temple Ephesus, About Ephesus
The temple of Artemis, Artemis temple Ephesus
Turkey Online Booking Travel offers Ephesus Tour Shuttle Services organizing transportation to Ephesus from Kusadasi and Izmir ports and back.
The Temple of Artemis, The Ancient City of Ephesus and the Temple Artemis
Temple of Artemis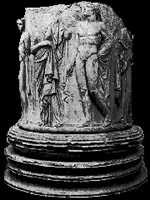 The temple of Artemision is known as one of the Seven Wonders of the Antic world. It has been built in the areas of Ephesus on a flat area which has over the centuries turned into a swamp. Today one can only see the ruins of the foundations of this marvelous construction of the Hellenistic Age, entirely made of marble and full of sculptured columns' capitals and shafts. The most beautiful remaining of this temple are today exhibited in the London British Museum.

The oldest remaining found date back till the VIth century BC. It was surrounded by 36 huge columns, later enlarged upon the orders of the Lydian King, Kreisos, during the VIth century BC. Most of the exhibits in the London British Museum belong to this period.

The new Artemision has been rebuilt in the IInd century BC. Located on top of the previous one, it had tremendous dimensions: 125 columns of each 17,5 meters high. Unfortunately this one has also been destroyed by fire, reconstructed and again demolished by earthquakes, rebuilt and at last looted by Goths one year later.

The statue of many-breasted Artemision was the symbol of the temple but also of abundance, hunting and wild life. The genuine statue of Artemisio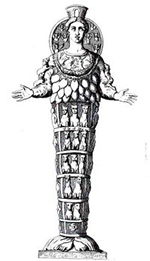 n, removed during the fire, is today exhibited in the Selcuk Museum. Many copies of this statue found during the latest excavations date back from the Roman period.

Aphrodisias was changed to Stayropolis then to Caria which became Geyre years after. The ruins which are worth seeing in Aphrodisias are listed below:

When the Greeks first arrive under the leadership of Androklos, Kybele (Rhea) was the major deity in all of Anatolia (the Asian part of Turkey). The Greeks introduced the worship of Artemis. Artemis and Kybele eventually became the same goddess. Artemis is the goddess of hunting, wild animals, childbirth, and nature.

According to the famous historian Strabon, the Temple of Artemis was built and destroyed seven times. It was always rebuilt on the same site. Some of the different architects were Theodoros from Samos, Chersiphon and his son Metagenes from Knossos of Crete, and Dinocrates.

The temple foundations date back to the 7th century BCE. At first, it was a small shrine to Kybele. In around 550 BCE Cretan Chersiphron, a Greek architect, designed the final temple. This initial building was sponsored by the Lydian king Croesus.

THE MOST CREATIVE AND ECONOMICAL EPHESUS TOUR FOR YOU!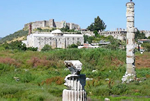 We provide you with the air conditioned vehicle with the driver and the licensed professional English speaking guide. You can draw up the program and determine the sights you wish to visit; our guide and the private vehicle with the driver will be at your disposal.

This kind of Ephesus tour is for those who is short of time or just have special wishes about what to visit around Kusadasi and Ephesus